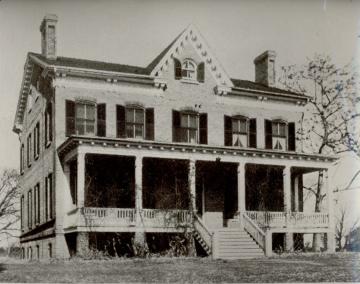 The Alumni House, 500 Richmond Road, formerly known as the Bright House, is located at the intersection of Richmond Road and College Terrace near the north end of Zable Stadium.
Historical Overview
The Alumni House was built on land purchased from William & Mary in 1847 by Samuel F. Bright. The building itself had been constructed in an Italianate style, with a central tower, probably in the 1850's, as revealed in an watercolor by Robert Knox Sneden from his 1862 sketch (see Alumni Magazine Winter 2007 page 44). The College rented the house 1919-1920, and professors Grimes and Richard Lee Morton lived there in 1920. In 1923, the College purchased 274 acres of the Bright farm surrounding the building, but not the house itself. From 1925-1943, the building served as the Kappa Alpha fraternity house. The College purchased the house in 1946 and used it as a men's dormitory. The following year, it was converted into faculty apartments.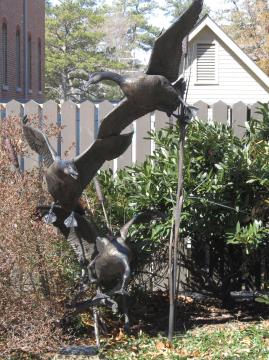 In early February 1972, the Alumni Society moved into two apartments within the Bright House. A campaign began in 1973 by the William & Mary Alumni Association to permanently move into the building, and a dedication ceremony took place October 11, 1973. Its rooms are available to rent for special occasions, such as weddings, dinners, and formal dances.
David Turner's bronze sculpture "Canada Geese" graces the Alumni House side garden bordering Richmond Rd.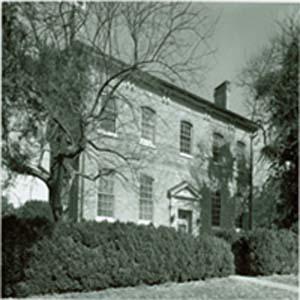 Faculty Residents, Selected
1959-1962 Donaldson, Birdena E., Dean of Women, Associate Professor of History, Apartment 4
1959 Hirsch, Abraham, Associate Professor of Economics, Apartment 5
1959-1962 Hunt, Robert P., Assistant Dean of Admissions, Dean of Admissions, Apartment 3
1959 King, Joan Carol, Assistant Dean of Women, Apartment 2
1959-1962 Lott, Edril, Assistant Professor of Secretarial Science, Apartment 6
1959-1962 Scammon, Jean, Instructor in Modern Languages, Apartment 1
1959 Wilkin, Alma, Associate Professor of Home Economics, Apartment 7
1960-1962 Hastings, Russell T., Instructor in Fine Arts
1960 Vassylkivsky, Eugenia, Instructor in Modern Languages
1960-1962 Wilkin, Alma, Associate Professor of Home Economics
1960-1961 Woods, Lucy Brooke, Assistant Dean of Women, Apartment 2
1962 Rucker, Fran Mae, Instructor in Women's Physical Education, Apartment 2
Material in the Special Collections Research Center