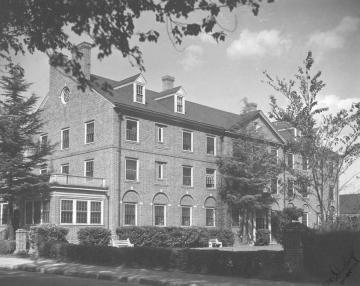 Brown Hall is a dormitory located on the corner of Prince George Street and North Boundary Street.
The original Brown Hall, now known as the Prince George House, was established in 1924 with funds from the Dyson estate and the Browns and was named in honor of Mrs. Jane Brown and Cornelia Brown, members of a prominent Methodist family. It accommodated 12-14 girls. In 1930, that building was sold to William & Mary and moved to 524 Prince George Street, behind Sorority Court.
The new Brown Hall, 107 North Boundary St., was built in 1930 with funds left by Mrs. Edward Brown of Lynchburg, under the supervision of trustees for the Board of Home Missions of the Women's Missionary Society of the Virginia Methodist Conference. Brown Hall was built to house 78 women students (not restricted to Methodists). A reception room, living room, service kitchenette, and rooms for a matron and Bible teacher were included in the design of the building.(The Flat Hat, 4/18/1930, 2) The College architect, Charles M. Robinson, designed the building, and the contractor was J.W. Davis. Ground was broken May 17, 1930. (The Flat Hat, 9/26/1930, 1, 4, 8)
Brown Hall was purchased by William & Mary in 1939. (Board of Visitors, Feb. 1939, p. 431; June 1939, P. 464, 467; See also Office of the President, J.S. Bryan, Acc. 1979.35 under Brown Hall) Beginning in 1943, it housed the Army Specialized Training cadets. (Board of Visitors, Oct. 2, p. 290) The AST unit left Brown Hall in March 1944, and the dormitory was rented to servicemen and their families living in Williamsburg. (Board of Visitors, June 2, p.347; Board of Visitors, Oct. 7, 1944, p. 363) It also served as housing for men from 1946 until 1951, when it was re-equipped and redecorated to become a women's dorm again. (The Flat Hat, 2/20/1946, 4; Board of Visitors, Feb. 9, 1946, p. 458; Board of Visitors, Feb. 9, 1952, p. 280)
It became a men's dorm in 1958 and a women's dorm again in 1967.(The Flat Hat, 3/4/1958, 1) It was renovated in 1974, when kitchens were installed on each floor and the rooms were rewired. (William & Mary News, 9/10/1974, 1) It currently serves as a co-ed dormitory.
Material in the Special Collections Research Center
Flat Hat, William & Mary News, Alumni Gazette/Alumni Magazine:

New Methodist dormitory for girls FH, 10/1/1926, 8.
Girls dormitory to be built FH, 4/18/1930, 1, 2.
The completion of Brown Hall increases enrollment of women FH, 9/26/1930, 1.
Brown Hall near completion FH, 9/26/1930, 8.
New dorm wall disputed FH, 10/17/1930, 10.
Bedlam in Brown Hall result of Clothes st[?]ing episode FH, 4/27/1943, 7.
Brown vacated by ASTU; service families move in FH, 2/16/1944, 3.
College decorates Brown dormitory FH, 11/28/1945, 3.
Explanation of evictions FH, 2/6/1946, 1.
Veterans in Brown Hall plan party for women FH, 2/13/1946, 9.
Brown Hall residents entertain evicted girls FH, 2/20/1946, 5.
Room gets materials FH, 4/17/1946, 1.
Holds first Coed open house FH, 10/8/1946, 10.
Fire alarm problems continue FH, 10/18/1991, 1, 2 (picture).
Refurbished WMN, 9/5/1996, 3 (picture).
University Archives Photograph Collection includes:

P1979.091 and P1979.092--1928-1929, white frame house shown in aerial photos. Later moved to 524 Prince George Street behind Sorority Court.
P1981.009 and P1981.010--aerial photos, building moved to 524 Price George Street in May 1970, next to Braxton House behind Sorority Court
External Links
Brown Hall, Residence Life, College of William & Mary.