The Campus Center, 104 Jamestown Road, is an L-shaped building north of Trinkle Hall facing Jamestown Road.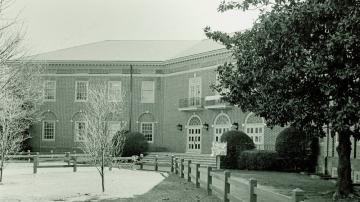 It was designed by architects Walford and Write and built by the Harry B. Graham Company of Charlottesville. It opened for use on April 20, 1960. The basement was designed to include utility rooms, a craft shop, two photographic darkrooms, a game room, four bowling alleys, a billiard room, and a 200-seat meeting room with a stage and a movie projection booth. The first floor contained a manager's office, two music rooms, a magazine browsing room, kitchen facilities, a large lounge that opened into a terrace behind the Campus Center, and two covered walkways (one completely enclosed) that connected with Trinkle Hall. The second floor contained three meeting rooms, restrooms, publications offices, and a ballroom.
In 1966, the Sit n' Bull Room opened and was furnished with round tables, a jukebox, a piano, and a television. The walls were colored red with character panels in black and white, and also included Jacks and Kings pattern drapes. The bowling alleys were removed and substituted with a game room. In 1986, WCWM, the College radio station, moved to a new studio in the basement of the Campus Center. The Marketplace, with eight different food-service areas, opened on September 15, 1986 in the space formerly occupied by the Wigwam and Colony Rooms.
On April 3, 2003, a fire in the Trinkle Hall basement spread to the Print Shop at the back of the Campus Center.
References