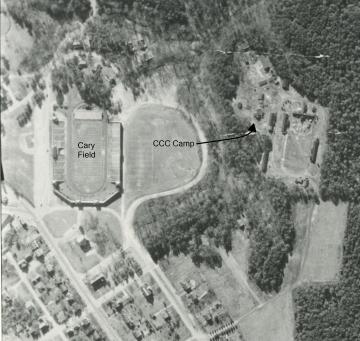 The Civilian Conservation Corps or CCC Camp at William & Mary during the Great Depression was located on the present site of Yates Hall on Yates Drive, across from William & Mary Hall.
1933--temporary camp behind Cary Field with a large mess hall, kitchen, five barracks, recreation building, shower and wash house, a garage, and an administration building. Camp laid out in a quadrangle, with mess hall at one end, administration building at other end, and barracks along sides.
Today (2010), small brick buildings on the side of the Yates parking lot are remain from the CCC camp.
Material in the Special Collections Research Center
Charles Hunter Notes, Special Collections Research Center, Earl Gregg Swem Library, The College of William & Mary.
The Flat Hat
Colonial Echo
Alumni Gazette
University Archives Photograph Collection - Aerial Views of Campus