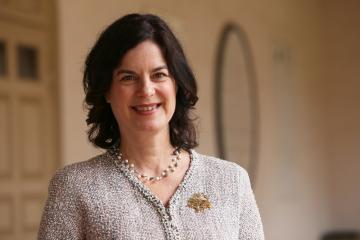 William & Mary President: Katherine A. Rowe
Term Served:  President, July 31, 2018 - Present
Preceded by: W. Taylor Reveley III 2008-2018
Katherine A. Rowe was unanimously elected by the William & Mary Board of Visitors as the 28th president of the university on February 20, 2018. Nationally recognized as an innovator in higher education, Rowe is a champion for the importance of the liberal arts, entrepreneurship, and strengthening education-workforce pathways. She began on July 1, 2018 and was inaugurated on February 8, 2019. On November 19, 2021, the Board was unanimous in its election of an early extension of President Rowe's contract, through June 2028.
Under Rowe's leadership, William & Mary has advanced a whole-institution approach to learning. The cross-university initiatives she has cultivated include a central Entrepreneurship Hub, a Studio for Teaching & Learning Innovation, W&M's first Sustainability Plan and Climate Action Roadmap,  realization of William & Mary's long-planned Memorial to the Enslaved, a Veteran to Executive Transition program, an Institute for Integrative Conservation, and a university-wide approach to diversity and inclusion. William & Mary successfully closed its For the Bold campaign in June 2020, raising just over $1 billion.
Rowe oversaw the creation of William & Mary's ambitious strategic plan, Vision 2026, via an inclusive, multi-year planning process. During the first phase of planning, the university community came together to craft William & Mary's first-ever statement of shared values.
As president, Rowe led William & Mary's effective COVID-19 response, joining forces with the City of Williamsburg and other key local partners to keep the Tidewater region as safe as possible. Following the disruption of the 2020 spring semester, Rowe stood up the Path Forward planning initiative to reconvene campus. In the 2020-21 academic year William & Mary continued in-person learning, uninterrupted – flexibly adapting every university practice and system to ensure that students could maintain momentum to their degrees. Key cross-institutional efforts were launched during the pandemic: leading to enhanced career development for students, a unified approach to Communications and Marketing, and a whole-university Council for Community Partnerships.
Rowe serves on the Northern Virginia Technology Council, the Virginia Business and Higher Education Council Board, RVA757 Connects, and the GoVA Region 5 Council. Rowe was named to the Virginia Business Virginia 500 Power List in 2020 and 2021. In 2020, Diverse: Issues in Higher Education named Rowe one of the top 35 women in higher education.
Previously, Rowe served as provost and dean of faculty at Smith College in Massachusetts. During her tenure, Smith launched a design thinking curriculum, greatly increased diversity in faculty hiring and established one of the first statistical and data sciences majors at a liberal arts college (and the first at a women's college). Rowe also served as Smith's interim vice president for inclusion, diversity and equity.
Earlier in her career, Rowe co-founded and served for several years as the CEO of Luminary Digital Media, which developed a series of educational apps enhancing student engagement and learning of classic Shakespearean texts.
Rowe earned a bachelor's degree in English and American literature from Carleton College and a master's and a Ph.D. in English and American literature from Harvard. She has completed graduate work in Cinema and Media Studies at New York University's Tisch School of the Arts. Her areas of research and scholarship include Shakespeare, Milton, Renaissance drama and media history.
An award-winning teacher, Rowe spent 16 years at Bryn Mawr College as an English professor, department chair and director of the Katharine Houghton Hepburn Center for leadership and public engagement. She began her teaching career as an assistant professor of English at Yale. Prior to arriving at William & Mary she held the Sophia Smith chair at Smith College.
Rowe has published three books: New Wave Shakespeare on Screen with Thomas Cartelli (Polity Press, 2007), Reading the Early Modern Passions: Essays in the Cultural History of Emotion as co-editor (Penn Press, 2004) and Dead Hands: Fictions of Agency, Renaissance to Modern (Stanford, 2000). She also has editing credits in the Cambridge Guide to the Worlds of Shakespeare. With more than 350 scholarly contributors from five continents, this world-standard, multi-volume, reference work was honored in 2016 by the American Association of Publishers with two PROSE awards, considered the most prestigious in the publishing industry. This international collaboration was also recognized in 2016 by the Library Journal for outstanding print reference work for the Cambridge Guide as well as the American Library Association's outstanding academic title.
External Links