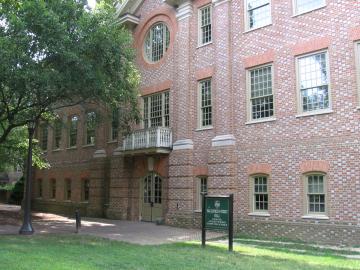 Dedicated on October 27,1995, McGlothlin-Street Hall located at 251 Jamestown Road, was first named Tercentenary Hall for William & Mary's 300th birthday celebration in 1992-1993. Built at a cost of $9.5 million, the four-story structure occupies a site along the historic Sunken Garden and completed the 1925 master plan of buildings on "Old Campus". It is a mirror image of Blair Hall across the Garden and used by the Geology, Computer Science and Chemistry Departments. It was the first new science building at William & Mary since William Barton Rogers Hall was completed in 1975.
The building is an adaptation of the Georgian style of design found throughout the Old Campus. Bricks used for the building were custom-made by the Old Virginia Brick Co. to closely resemble bricks used for the Wren Building.
In September, 1997, Lady Margaret Thatcher, former prime minister of Great Britain and Chancellor of the College was the principal speaker at the re-dedication of the McGlothlin-Street Hall. The building was renamed to honor James McGlothlin(class of 1962, 1964), Chairman and CEO of The United Company of Bristol, Virginia, a former member of the Board of Visitors, and board member and company secretary Nicholas Street. McGlothlin and Street and the United Company have generously donated millions to support the Wren Building renovations, Swem Library expansion and enhancement of the Marshall-Wythe Law Library.
References
"Buildings and Grounds--Tercentenary Hall" Folder, University Archives Subject File Collection, Special Collections Research Center, Earl Gregg Swem Library, William & Mary.
"William & Mary News Vol XXV, Number 6 November 1, 1995 pg 1,10
"William & Mary News Vol XXVII, Number 3 September 17,1997, page 1,5