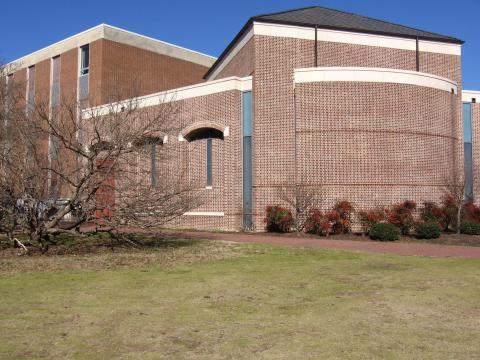 Small Hall is located at 300 Ukrop Way (where Botetourt Drive and New Campus Drive formerly intersected). William & Mary broke ground for the 778,000-square-foot building in August 1962. The building is named for William Small, a professor of Natural Phiolosophy. It was completed in December 1963 and has been in use since February 1964. It housed an IBM 360 computer circa 1969.
Observatory
A twelve-foot observatory dome housing a ten-inch reflecting telescope was built on the roof in 1975. The observatory was named the Thomas Harriot Observatory after the first astronomer in Virginia who accompanied Raleigh's expedition from 1585 to 1586. A 6,800 square-foot, two-story addition was added to Small Hall between March and November 1985, containing ten faculty offices and a two-story library.
In "Early Astronomy in America: the Role of The College of William & Mary" (Journal of Astronomical History and Heritage, 5:1[2002], 41-64), Jeffrey R. Shy surveys the early history of science, especially astronomy, at the College, including the construction in 1778 of what appears to be the earliest permanent observatory in America.
Magnet
A project to provide an addition to Small Hall to house a large, high field NMR magnet, the purchase of which is funded by grants from the Office of Naval Research and the National Science Foundation was completed in 2005. Once complete, the magnet facility was the only one of its size in Virginia.
Cost: $ 2.5-million
Fund Source - 9C/9D Debt
Renovation GSF: 1,220
New GSF: 2,970
Start Date: April 2004
Finish Date: December 2004
Design Team: Design Collective
Contractor: W.M. Jordan Co.
Progress: The magnet was delivered on Saturday, April 9, 2005.
Building Committee: Verasak (Oot) Singhaseni, Project Manager; Anna Martin, Vice President, Administration; Martha Sheets, Senior Planner; Wayne Boy, Associate Director of Facilities Planning, Design, and Construction; Gina Hoatson, Professor of Physics; Bill Cooke, Chair/Professor of Physics; Bob Vold, Professor of Applied Science.1
Solar Panels
In 2008, Keith Griffioen, professor of physics, received a $3,000 grant from the Committee on Sustainability at the College of William & Mary to explore the use of solar energy for Small Hall. The grants were funded by student Green Fees that are to be used to make William & Mary more environmentally sustainable. The project will place solar panels on the roof of Small Hall in order create an efficient way to integrate solar-generated electrical power into the building's existing infrastructure.2.
In the News
References
Solar Panels, accessed 23 April 2009.
Small Hall in University Archives Buildings File (2007), Special Collections Research Center, Earl Gregg Swem Library, The College of William & Mary.
---