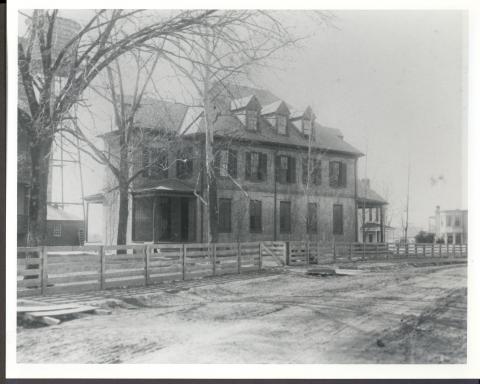 The Taliaferro Building was located on Jamestown Road across the street from the Brafferton at William & Mary. Plans for its construction were accepted by the Board of Visitors in 1893 and the building was named in honor of Confederate General William B. Taliaferro in recognition of his service to the University.
The building was constructed between 1893 and 1894 by E.W. Johnson of Newport News with Carpenter and Peebles of Norfolk as the architects. The rooms of the second floor could be converted into suites of two rooms by means of partition doors. An Alumni Banquet was held in the new Taliaferro Building on June 26, 1894.
In 1905 the dining hall was moved to Ewell Hall. In 1914 William & Mary received $5,300 from the Virginia legislature for improvements to the Taliaferro Building. After running water was installed in each room and a bathroom was built in the basement, Taliaferro became a dormitory.
The building was once again renovated and used for administrative offices and the Music Department in 1932. It also housed offices of the deans, the registrar, the treasurer, and the Flat Hat. Administrative offices moved to Marshall-Wythe Hall (now known as James Blair Hall) in 1935 while the Music Department and student publications remained in the Taliaferro Building.
The Taliaferro Building underwent extensive renovations between 1936 and 1937 to become the Fine Arts Building. The first floor was used for sculpture and stage design. The second floor housed a library, a print room, offices, and a theatre. The third floor had a painting studio with a skylight forming most of the roof. The Fine Arts Building was designed by Department Chair Leslie Cheek, Jr. Instructor Theodore Rust built a two-story fountain titled, "Art is Long, Life is Short." The stairs wound around the glass-enclosed fountain with water running from the top through various levels and ending in a fish pool on the first floor. The building was opened with a reception on February 27, 1937.1
The Taliaferro Building was torn down in 1967.