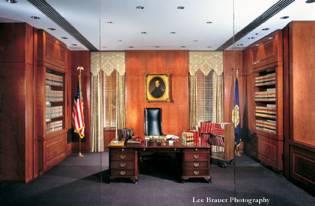 The Warren E. Burger Collection consists of the lifetime professional papers and memorabilia of the late Chief Justice Warren E. Burger (1907-1995), as well as of related acquisitions, collected by the Special Collections Research Center at William & Mary Libraries.
From 1986-1993, Warren E. Burger, one of the most influential legal figures of the 20th century, served as the 20th chancellor of William & Mary. In 1996, Wade A. Burger donated his father's papers to William & Mary and the university is honored to serve as the permanent home of this immeasurable resource for future historians and legal scholars. The collection is made up of approximately 1,200 cubic feet of papers, 2,500 photographs and more than 300 artifacts. 
NOTE: In accordance with the donor agreement, the Warren E. Burger Papers are closed to researchers until at least 2032.* 1
A recreation of Warren E. Burger's Supreme Court retirement office is open to visitors in the Special Collections Research Center. On display are the Chief Justice's Supreme Court bench chair and office desk in addition to selected artifacts, memorabilia, photographs and documents from the collection. View an abbreviated version of the office exhibit online. 
One of the donated artifacts, a bronze bust of Chief Justice Burger, was sculpted in 1983 by Walker Hancock (1901-1998).2 The bust, initially on display in office exhibit was relocated to the Leadership Gallery on the second floor of the Wren Building in the spring of 2022. Burger sat for Hancock during breaks from his court duties in a Supreme Court space furnished as a studio for particularly this purpose, and over the course of their sessions the two formed a friendship over their shared love for the arts.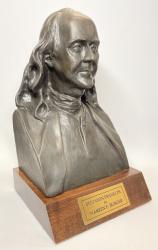 As much as his busy schedule allowed, Warren Burger was involved in the arts, and over the years he himself produced bas relief portraits and still life paintings. When still a high school student in 1923, he sculpted a bust of Benjamin Franklin, which in 1987 was reproduced in form of bronze copies by the Franklin Mint as a fundraiser for the Bicentennial Commission.
1. The deed of gift stipulates that the papers are to remain closed to researchers until 10 years after the last Justice who served on the Supreme Court with Chief Justice Burger will have passed away, or 2026, whichever comes later.
2. The original marble bust is on display in the Supreme Court in Washington, D.C., and additional bronze copies are housed at the National Portrait Gallery, and the Mitchell Hamline School of Law.