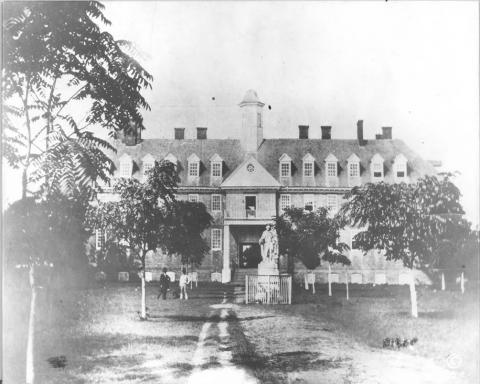 Generally referred to simply as the Wren Building or College Building at William & Mary in Virginia, The Sir Christopher Wren Building is the oldest college building in the United States. It is a National Historic Landmark and is listed on the United States National Register of Historic Places. The Wren Building was constructed between 1695 and 1700, before Williamsburg was founded, when the capital of the colony of Virginia was still located at Jamestown. In 1724, William & Mary professor Hugh Jones wrote, "The Building is beautiful and commodious, being first modeled by Sir Christopher Wren, adapted to the nature of the country by the gentlemen there." While scholarship does not support the attribution of direct design by Wren, the state officially renamed the College Building the Sir Christopher Wren Building in 1931, following the restoration funded by John D. Rockefeller, Jr. The building is constructed out of red brick laid in Flemish Bond, as was typical for official buildings in 17th and 18th century Virginia. The restored building contains classrooms, offices, the Great Hall, and a chapel (added as a south wing in 1732). On top of the building is a weather vane with the number 1693, the year the College was founded.
Construction
The royal charter of the college was granted by King William III and Queen Mary II on February 8, 1693. The charter named James Blair as the first president and provided almost £2000 and 20,000 acres of land as an endowment, authorized a penny per pound tax on tobacco exported from Maryland and Virginia to countries other than England and profits from the surveyor general's office. In "A History of the College of William & Mary" by Sue Godson, et al Vol 1 p 31: "by April 1697 College accounts showed total expenditures of £3889.1.10 on construction, £170 over available funds." This is for the front and north wing of the building, with a roof only on the front.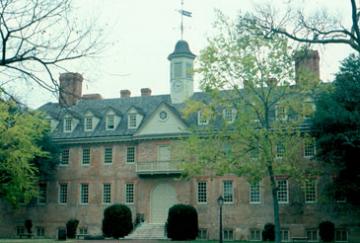 Converting to today's dollars is difficult. According to "The Value of Money in Colonial America" on the UNC School of Education web site: "It would be nice if we had a simple exchange rate to compare colonial pounds, shillings, and pence with today's dollars and cents. But we don't. Economists and economic historians have tried to make these kinds of calculations, but they disagree - often wildly." One conversion of £3889 in 1750 into 2003 American dollars is $793,522. According to the National Archives £3889 in 1700 converts to 2005's £303,770.10 or $481,950 American dollars.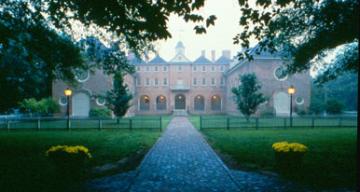 Another comparison would be with the cost of building the Trinity College Library, Cambridge, (constructed 1676-1681) which was designed by Sir Christopher Wren (at no charge), which cost £16,425. See Building the Wren Library
Overview
The Wren Building is joined in the Wren Yard by the Brafferton and the President's House. Together the three oldest buildings at the College of William & Mary form the Historic Campus. The Wren Building formal address is 111 Jamestown Road. In the building, generations of William & Mary students have attended classes and lectures, enjoyed meals and attended chapel services. Classes are still held in the Wren Building, which also is home to the offices of the faculty of the department of religious studies. The northern wing holds the Great Hall and the southern wing holds the Chapel. Both rooms are often open to the public and are still used for various functions.2
According to the Virginia Gazette of 27 May 1775: "Monday last, in the afternoon, came on a heavy shower of rain from the N.W. accompanied with hail of a prodigious size, some weighing upwards of half an ounce, others an ounce. Great damage is done to the windows by the violence of the hail-stones, and particularly to those of the Palace and College, the former (it is said) including the out buildings, having lost upwards of 300 panes of glass. (Transcription in the Board of Visitors folder, University Archives Subject File Collection, Special Collections Research Center)
Fires
The Wren Building has been gutted by fire three times: in 1705, 1859 and 1862. Each time the interior of the building was reconstructed inside the original walls, and for more than three centuries, it has been "the soul of the College."
In the October 1705 fire, the College Building (Wren) and its library burned. One book from the library - The history of the Council of Trent : containing eight books, in which besides the ordinary acts of the Council are declared many notable occurrences which happened in Christendom, during the space of forty years and more; and particularly the practices of the Court of Rome, to hinder the Reformation of their errours, and to maintain their greatness (1676) - survived the fire and is part of the collection of Swem Library's Special Collections Research Center.
In the early morning February 8, 1859, the College Building again burned. The library contents were destroyed. A fragment from the bell survived the fire and is part of the University Archives Artifact Collection. (An image of the fragment is available in the box list of the finding aid.) Lectures resumed on October 13, 1859.
In September 1862, the College Building was burned by Union soldiers from the 5th Pennsylvania Cavalry during the Civil War.
Thomas Jefferson's Addition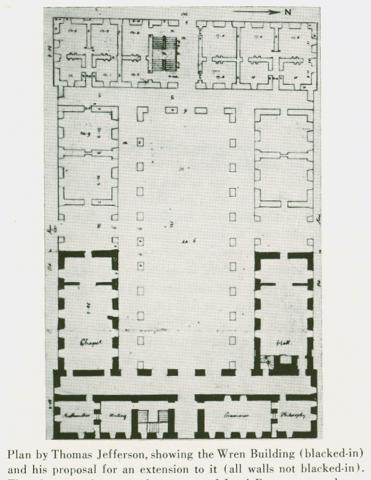 Lord Dunmore, royall governor of Virginia, requested Thomas Jefferson develop plans for the completion of the College Building around 1772. Originally planned to be a quadrangular structure, Jefferson's design almost doubled the existing building space.
An advertisement appeared in the Virginia Gazette newspaper on September 3, 1772, stating the Visitors and Governors of the College intend to make an additional building to the college. "Notice is therefore given, to all persons willing to undertake this work, that a plan thereof is lodged with Mr. Matthew Davenport, who will be ready at all times to show the same and to whom they are desired to send their estimates and proposals, sealed up, on or before the first day of October next."
The contract was awarded to John Saunders, a local builder.
Entries in the Bursar's Book for November 8 and 9, 1774 indicate materials were being assembled. It states an order being placed with a London firm and the money is noted to "By New Building". The foundations of the new west wing were laid but the Revolutionary War intervened and construction was suspended never to be completed.
By 1780 the assembled materials were being sold. The Virginia Gazette (Dixon and Nicholson) of September 13 and 20, 1780 indicates:

"The College has for sale, a considerable quantity of scantling, originally intended for an additional building. Any person taking the whole which cost about $500 [pounds] in the year 1775, may have it upon the most reasonable terms."
A "scantling" is a small piece of lumber as an upright piece in house framing.
The foundations were covered over and later re-discovered in 1940 by accident during planting of a row of trees. No further excavations were made until October 1950 by James M. Knight of Colonial Williamsburg and A. Edwin Kendrew, Vice President in charge of the Department of Architecture, after a conference on the subject of Jefferson's addition held with College President John E. Pomfret. They discovered that the foundations for the side walls between the existing building and the Jefferson addition were never laid.
The foundations were again re-discovered in June, 1977, when a construction crew was digging a trench for pipe installation.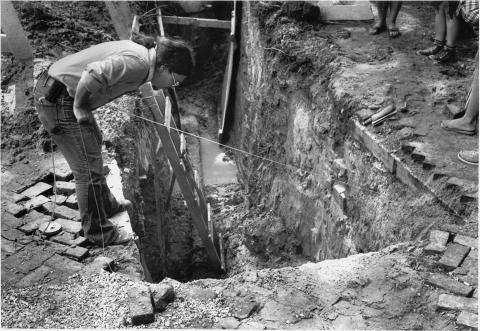 Renovations
1967 Renovation
Details of a 1967 renovation can be seen in the September 22, 1967 issue of the Flat Hat on page 12. A number of publications produced by Colonial Williamsburg during this time period have been digitized and can be found searching the library catalog
Wrenovation
To prepare the Wren Building for its fourth century of use, the College has recently completed a comprehensive renewal and replacement project. The major components of the project were restoration of the architectural features such as floors and paneling; replacement of mechanical, electrical, and plumbing systems; safety upgrades; and conservation of the masonry walls. See the records of the Office of the Historic Campus for further information about recent renovations.
Statues of Lord Botetourt
Original Statue
Lord Botetourt was so revered by the Virginians that they erected a statue in his memory which stood first at the Old Capitol building and then was purchased by the College of William & Mary in 1801. Barring a brief period during the Civil War when it was moved to the Public Asylum for safety, it stood in the College Yard until 1958 when it was removed for protection from the elements, and then installed in the new Earl Gregg Swem Library in the Botetourt Gallery.
1993 Statue
A replica Lord Botetourt statue created in bronze by College of William & Mary alumnus Gordon Kray was installed in the College Yard in 1993. It is a College tradition to dress up the statue for the holidays and special events such as hanging a wreath on the statue's outstretched hand in December.
Cannon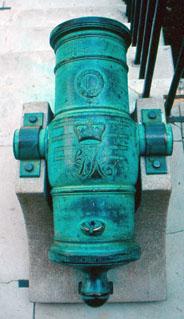 The two artillery weapons flanking the east door to the Wren Building were among several captured from the British after the Battle of Yorktown in 1781. The initials "GR" stand for George Rex, or King George II of England, as they were cast during his reign.
The cannon in the yard was taken from Fort Christanna, a trading post which was established by colonial governor Alexander Spotswood south of the James River in 1713. This cannon is currently out for conservation.
Bust of Thomas Jefferson
In 1949, "through the action of the Governor William Munford Tuck after a resolution of the Board of Visitors, the college was awarded a bust of Thomas Jefferson, which had been included among the gifts to the Old Dominion donated by a grateful French population (via the "Merci Train") in response to this country's "Friendship Train" of last year." (The Flat Hat, March 22, 1949) This bisque porcelain bust, which is part of the Muscarelle Museum of Art collection, is currently on display in the Great Hall of the Wren Building over the west door.
Plaques Honoring Veterans and War Dead
Revolutionary War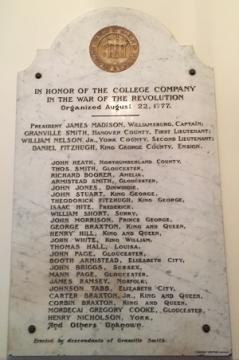 The Revolutionary War plaque in the Wren Building honors the men of the College of William & Mary who served in the College Company during the American Revolution.
IN HONOR OF THE COLLEGE COMPANY
IN THE WAR OF THE REVOLUTION
Organized August 22, 1777
PRESIDENT JAMES MADISON, WILLIAMSBURG, CAPTAIN;
GRANVILLE SMITH, HANOVER COUNTY, FIRST LIEUTENANT;
WILLIAM NELSON JR., YORK COUNTY, SECOND LIEUTENANT;
DANIEL FITZHUGH, KING GEORGE COUNTY, ENSIGN.
JOHN HEATH, NORTHUMBERLAND COUNTY,
THOS. SMITH, GLOUCESTER,
RICHARD BOOKER, AMELIA,
ARMISTEAD SMITH, GLOUCESTER,
JOHN STUART, KING GEORGE,
THEODORICK FITZHUGH, KING GEORGE,
ISAAC HITE, FREDERICK,
WILLIAM SHORT, SURRY,
JOHN MORRISON, PRINCE GEORGE,
GEORGE BRAXTON, KING AND QUEEN,
HENRY HILL, KING AND QUEEN,
JOHN WHITE, KING WILLIAM,
THOMAS HALL, LOUISA,
JOHN PAGE, GLOUCESTER,
BOOTH ARMISTEAD, ELIZABETH CITY,
JOHN BRIGGS, SUSSEX,
MANN PAGE, GLOUCESTER,
JAMES RAMSEY, NORFOLK,
JOHNSON TABB, ELIZABETH CITY,
CARTER BRAXTON, JR., KING AND QUEEN,
CORBIN BRAXTON, KING AND QUEEN,
MORDECAI GREGORY COOKE, GLOUCESTER
HENRY NICHOLSON, YORK,
And Others Unknown.
Erected by descendants of Granville Smith.
---
Memorial to French Soldiers in the Siege of Yorktown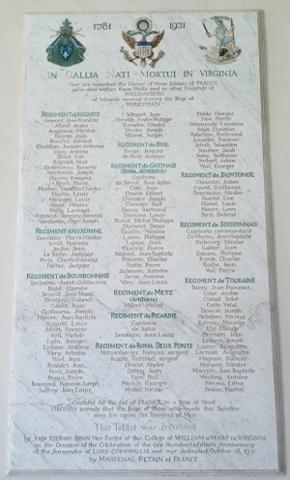 The Memorial Table to French Soldiers who died in Williamsburg from wounds received during the siege of Yorktown, 1781, was erected October 18, 1931.
The plaque reads as follows:
1781 1931
IN GALLIA NATI MORTUI IN VIRGINIA
Here are inscribed the Names of those Soldiers of FRANCE
who died within these Walls and in other Hospitals of
WILLIAMSBURG
of Wounds received during the Siege of
YORKTOWN
REGIMENT d'AGENOIS
Aimont, Jean Francois
Allard, Andre
Angevaise, Nicolas
Bagage, Jean
Bouillot, Benoist
Chatillon, Jacques Antoine
Cocq, Antoine
David, Yves
Fugenot, Noel
Guiboiseau, Francois
Hauteville, Joseph
Hursin, Francois
Lignot, Pierre
Marival, Francois Charles
Martin, Louis
Menager, Louis
Naret, Nicolas
Nolly, Laurent
Papelard, Jacques Francois
Verdavoir, Oger Joseph
REGIMENT d'AUXONNE
Gorrelier, Pierre Nicolas
Iund, Francois
Joulin, Jean
Le Riche, Jacques
Paris, Claude Francois
Pelitier, Jacques
REGIMENT DE BOURBONNAIS
Barbaton, Joseph Guillaume
Bedel, Etienne
Besard, Jean Marie
Devillers, Gabriel
Galotet, Jean
Guillaume, Joseph
Honore, Jean Baptiste
Huguet, Louis
Jolivet, Francois
Kell, Michel
Lafin, Jeangeri
La Fosse, Antoine
Mery, Antoine
Noel, Jean
Paniolet, Jean
Prou, Joseph
Proux, Pierre
Rossignol, Francois Joseph
Saffroy, Jean Louis
Seliquet, Jean
Terville, Andre Philippe
Tumelin, Nicolas
Verrier, Joseph
Villaret, Joseph
REGIMENT de BRIE
Berger, Jacques
de Paris, Jacques
REGIMENT de GATINAIS (ROYAL AUVERGNE)
Capitaine De Sireuil, Jean Jarlan
Catel, Jean
Charet, Gilbert
Chevalier, Joseph
Chevalier, Paul
Daray, Bertrand
Decoune, Louis
Dufut, Michel Philippe
Dumont, Denis
Guelin, Nicolas
Laine, Philippe
Lajoye, Jean
Ozanne, Pierre
Paulard, Jean Baptiste
Pierson, Charles
Riotte, Pierre
Sallemon, Antoine
Serve, Antoine
Vitre, Jean Louis
REGIMENT de METZ (Artillerie)
REGIMENT de PICARDIE
Capitane de Satur Sansfacon, Jean Louis
REGIMENT de ROYAL DEUX PONTS
Hiltzenberger, Francois, sergent
Rouffe, Gottfried, sergent
Cheret, Andre
Dittzer, Jean
Egre, Paul
Merkot, Georges
Muller, Nicolas
Neble, Georges
New, Pierre
Orkensude, Erasmus
Pabst, Christian
Robichon, Ferdinand
Scholder, Francois
Scholt, Sebastien
Stautzer, Jacob
Stohe, Balthazar
Stubert, Adam
Vbel, Georges
REGIMENT de SAINTONGE
Chauvin, Julien
Coutel, Guillaume
Determine, Nicolas
Ducros, Luc
Glanet, Louis
Maure, Leon
Paris, Gabriel
REGIMENT de SOISSONNAIS
Capitaine commandant DeMarin, Jean Baptiste
Dubourg, Nicolas
Galtier, Jean
Gausse, Philippe
Provot, Charles
Roche, Jean Vial, Pierre
REGIMENT de TOURAINE
Barey, Jean Francois
Colar, Andre
Costail, Sidet
Coste, Vidal
Devaise, Joseph
Dididiere, Nicolas
Edmon, Maurice
Ely, Claude
Hermain, Jean
Lefevre, Joseph
Lersne, Augustin
Lormier, Augustin
Magnan, Francois
Monard, Nicolas
Mongin, Jean Baptiste
Moulins, Antoine
Neveu, Edme
Savoix, Martial
Grateful for the Aid of FRANCE in a time of Need VIRGINIA intends that the Fame of those who made this Sacrifice may live upon the Tongues of Men
This Tablet was Presented by JOHN STEWART BRYAN, Vice Rector of the College of WILLIAM & MARY in VIRGINIA on the Occasion of the Celebration of the One Hundred & Fiftieth Anniversary of the Surrender of Lord Cornwallis and was dedicated October 18, 1931 by MARECHAL PETAIN of FRANCE
---
Civil War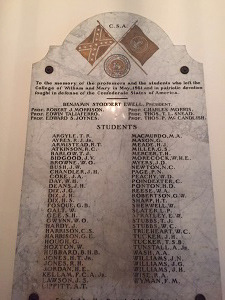 The Civil War Confederate volunteers plaque was erected in 1914. The text of the plaque follows. Note that names appearing on the same lines below are presented in columns on the plaque. This plaque is currently housed in the Special Collections Research Center.
C.S.A.
In the memory of the professors and the students who left the College of William & Mary in May, 1861 and in patriotic devotion fought in defense of the Confederate States of America
BENJAMIN STODDERT EWELL, PRESIDENT.
PROF. ROBERT J. MORRISON. PROF. CHARLES MORRIS.
PROF. EDWIN TALIAFERRO. PROF. THOS. T. L. SNEAD.
PROF. EDWARD S. JOYNES. PROF. THOS. P. MC CANDLISH.
STUDENTS
ARGYLE, T. R. MACMURDO, M. A.
AYRES, R. J. JR. MASON, G.
ARMISTEAD, R. T. MEADE, H. J.
ATKINSON, R. C. MILLER, G. S.
BARLOW, T. J. MERCER, T. H.
BIDGOOD, J. V. MORECOCK, W. H. E.
BROWNE, W. O. MYERS, J. D.
BUSH, J. W. NEWTON, N. C.
CHANDLER, J. H. PAGE, P. N.
COKE, J. A. PEACHY, W. D.
DAY, W. H. POINDEXTER, C.
DEANS, J. H. PONTON, H. D.
DIX, J. G. REESE, W. A.
DIX, J. H. ROBERTSON, G. W.
DIX, H. S. SHARP, H. T.
FOSQUE, G. B. SHERWELL, W.
GALT, W. SLATER, L. P.
GEE, S. H. SPRATLEY, E. W.
GWYNN, W. O. STUBBS, T. J.
HARDY, J. STUBBS, W. C.
HARRISON, C. S. TRUEHEART, W. C.
HARRISON, G. E. TUCKER, J. H.
HOUGH, G. TUCKER, T. S. B
HOXTON, W. TUNSTALL, A. JR.
HUBBARD, B. H. B. WASH, A. A.
JONES, H. T. JR. WILLIAMS, J. N.
JONES, R. H. WILLIAMS, J. G.
JORDAN, H. E. WILLIAMS, J. H.
KELLAM, F. C. A. JR. WISE, R. A.
LAWSON, J. S. WYMAN, F. M.
LIPPITT, A. T.
Erected by the Board of Visitors and the Alumni of the College, 1914
---
World Wars I and II
The World War I and World War II plaques in the Wren Building were erected in May, 1948. A temporary plaque of the WWII casualties was unveiled on Alumni Day in June, 1944.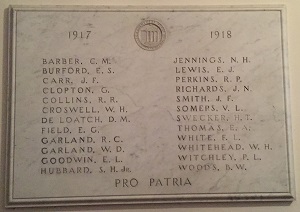 World War I Plaque
1917 1918
BARBER, C. M.
BURFORD, E. S.
CARR, J.F.
CLOPTON, G.
COLLINS, R. R.
CROSWELL, W. H.
DE LOATCH, D. M.
FIELD, E. G.
GARLAND, R. C.
GARLAND, W. D.
GOODWIN, E. L.
HUBBARD, S. H. JR
JENNINGS, N. H.
LEWIS, E. J.
PERKINS, R. P.
RICHARDS, J. N.
SMITH, J. F.
SOMERS, V. L.
SWECKER, H. T.
THOMAS, E. A.
WHITE, F. L.
WHITEHEAD, W. H.
WITCHLEY, P. L.
WOODS, B. W.
PRO PATRIA
---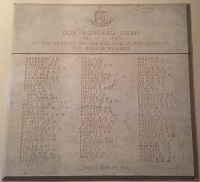 World War II Plaque
OUR HONORED DEAD
1941-1945
AT THE SETTING OF THE SUN AND IN THE MORNING
WE WILL REMEMBER
ANDERSON, J. R.
ANDREWS, J. V.
BEMBOW, W. V.
BENJOVSKY, T. D. JR.
BLAGG, J. A.
BLAIR, W. J.
BOHANNAN, R. E.
BOTTALICO, J. J.
BOYSEN, F. O.
BYRD, G. B. JR.
CAMP, J. D.
CHESS, P. S. JR.
COSGROVE, A. S.
COWDEN, C. G.
COX, R. M. JR.
CRAWFORD, M. JR.
DALE, C. H.
DAVENPORT, J. B. JR.
DAVIDSON, J. T.
DE BELL, J. T. JR.
DENNIS, S. A.
DONNELLY, R. E. JR.
DOULIS, P. P.
DOWNING, W. E.
DOZIER, W. L. JR.
DUNN, J. N.
EASLEY, J. W.
ELDRIDGE, J JR.
FIELDS, H. H. JR.
FLICKINGER, W. S.
FOLKES, J. T.
FOX, A. C.
GALL, R. F.
GARNETT, C. N.
GILL, C. W.
GRAY, G. M.
GREMBOWITZ, J. F.
GRYMES, W. B.
HAGERMAN, C. E.
HALL, S. H.
HARDY, H. P. JR.
HART, E. K.
HEATH, J. G.
HECKER, S. A.
HENDRICK, C. B. JR.
HOGGE, N.
HOLLAND, G. L.
HOLLAND, J. M.
HUMBER, C. I. JR.
JOHNS, H. H.
JOHNSON, D. M.
JOHNSTON, R. C.
LAFFERTY, E. E.
LAMBERT, P. M.
LANG, A. C.
LAPOLLA, M. O.
LAUGHON, S. W.
LAWSON, J. C. JR.
LEVY, J. K.
LOUDEN, W.
MAISCH, H. C.
MARSH, W. C.
MATTSON, R. B.
MAY, J. D.
MOORE, C. H. JR.
MOUGEY, J. T.
MUSBACH, W. F.
PALMER, J. D.
PALMER, N. D.
PHILLIPS, E. E.
PYLE, B. T.
RANG, F. B.
RASMUSSEN, B. R.
ROBERTS, H. C. JR.
ROUNDTREE, C. E. JR.
SANDERS, R. D. JR.
SHRYOCK T. J. III
SMIDL, R. C.
SMITH, A. D.
STUART, D. B.
TAFFE, J. V.
TAYLOR, E. R. JR.
TULLEY, C. D. JR.
TWIDDY, C. A. JR.
VAN BUREN, J. M.
VIDETO, R. H.
WALKER, C. H.
WATKINS, J. M.
WENIGER, J. F.
WHEELER, H. F.
WILKINSON, J. F.
WOHL, D. P. JR.
FACULTY BORISH, M. E.
---
Korean and Vietnam Wars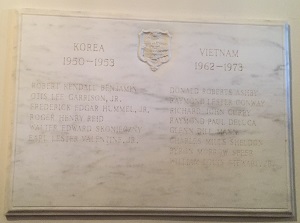 The plaque featuring alumni who served in the Korean and Vietnam wars was erected in the Wren Building on November 15, 1986.
Korea-Vietnam Plaque
KOREA
1950 - 1953
ROBERT KENDALL BENJAMIN
OTIS LEE GARRISON, JR.
FREDERICK EDGAR HUMMEL, JR.
ROGER HENRY REID
WALTER EDWARD SKONIECZNY
EARL LESTER VALENTINE, JR.
VIETNAM
1962 - 1973
DONALD ROBERTS ASHBY
RAYMOND LESTER CONWAY
RICHARD JOHN CURRY
RAYMOND PAUL DELUCA
GLENN DILL MANN
CHARLES MILLS SHELDON
BYRON MORROW SPEER
WILLIAM LOUIS STEWART, JR.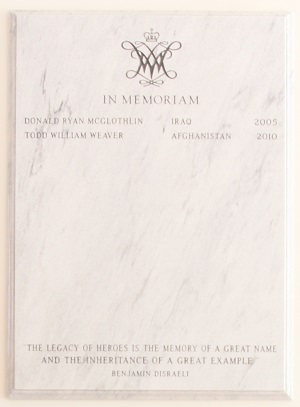 ---
Wars in Iraq and Afghanistan
In 2014, a new plaque was placed on the wall in the Wren entryway honoring those that died in the wars in Iraq and Afghanistan.
IN MEMORIAM
DONALD RYAN MCGLOTHLIN IRAQ 2005
TODD WILLIAM WEAVER AFGHANISTAN 2010
"THE LEGACY OF HEROES IS THE MEMORY OF A GREAT NAME
AND THE INHERITANCE OF A GREAT EXAMPLE"
BENJAMIN DISRAELI
Burial Vaults
A crypt is located under the chapel in the Wren Building. The crypt is not accessible to the public. What is known about each vault:
A. Sir John Randolph (d. 1737) and Lady Susanna Beverley Randolph (d. after 1754); tomb opened in 1858 and perhaps 1862.
B. John Randolph (d. 1784, body transferred from London and burial date unknown); opened in 1858 and probably in 1862; repaired in 1929.
C. Peyton Randolph (d. 1775, buried 1776) and Elizabeth Harrison Randolph (d. 1783); opened in 1858, 1859 and probably 1862. Mrs. Randolph's remains placed in Mr. Randolph's lead coffin and both transferred to Vault G on May 30, 1929.
D. Lord Botetourt (d. 1770); opened and robbed in 1862 and 1969; opened by Lyon G. Tyler between 1888 and 1919.
E. Bishop James Madison (d. 1812) and possibly Mrs. Madison (d. 18?); probably opened in 1862. Remains placed in a lead box and transferred to vault G on May 30, 1929.
F. Grave of Chancellor Robert Nelson (?) (d. 1818); excavated 1858 and August 1928.
G. See Vaults C & E.
H. President Thomas R. Dew (d. 1846, buried 1939).
? Judge Thomas Nelson (d. 1813); burial place unknown.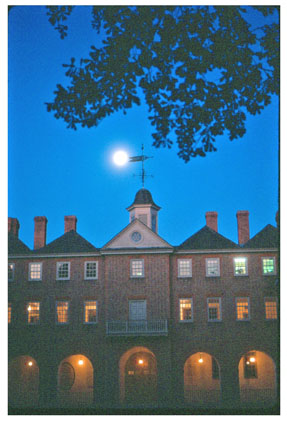 References
Thomas Jefferson's Addition References
"The Sir Christopher Wren Building" and "Jefferson's William & Mary" pamphlets from Office of the Historic Campus Records, Special Collections Research Center, Earl Gregg Swem Library, The College of William & Mary.
Journal of the Society of Architectural Historians, Vol. 10, No. 3, October, 1951, pg. 28-31.
"Discovery of the Foundations" by Kocher and Dearstyne, in "Wren Building-1615-1799," University Archives Subject File Collection, Special Collections Research Center, Earl Gregg Swem Library, The College of William & Mary.
Virginia Gazette (Dixon and Nicholson), September 13 and 20, 1780.
Virginia Gazette, July 15, 1977.
Plaques Honoring Veterans and War Dead References
French Soldiers: see Plaques-French Soldiers in University Archives Subject File Collection.
Confederate Soldiers: see Plaques-Confederate Soldiers in University Archives Subject File Collection.
WWI and WWII: see Plaques-WWII in University Archives Subject File Collection.
Korean, Vietnam, and Cold Wars: see Alumni Gazette, May 1985, page 5.
Material in the Special Collections Research Center
Search the SCRC Collections Database for the many references to the Wren Building:

Historic Campus Records, Special Collections Research Center, Swem Library, William & Mary.
University Archives Photograph Collection, Special Collections Research Center, Swem Library, William & Mary.
University Archives Subject File Collection, Special Collections Research Center, Swem Library, William & Mary.
Office of the President, Special Collections Research Center, Swem Library, William & Mary.
University Archives Artifact Collection, Special Collections Research Center, Swem Library, William & Mary.
For blueprints see the Facilities Management Records, Special Collections Research Center, Swem Library, William & Mary.
James D. Kornwolf, So good a design : the colonial campus of the College of William & Mary : its history, background, and legacy, Williamsburg, Va. : College of William & Mary, Joseph and Margaret Muscarelle Museum of Art, 1989. Swem stacks and Archives Books: call number: LD6051 .W53 K67 1989.
David Sacks, The history of the William & Mary campus, Thesis (Honors), College of William & Mary, 1984. Virginia reference and Archives Books: call number: LD6051 .W5m Fine A., 1984, S32.
For further material in Swem Library's book collection (including Archives Books, theses, and dissertations), search the Library Catalog using the subject heading "Wren Building (Williamsburg, Va.)" or "College of William & Mary Buildings."
In the News
"Wren archeological dig continues to hit pay dirt", William & Mary News, August 6, 2007.
Kindling enthusiasm in College's foundation, The Flat Hat 28 September 2007.
What Do the Wren Yard Cannon and the Indian School Have in Common?, William & Mary Alumni Magazine, Winter 2008, Volume 74, Number 2.
External Links