The William & Mary Memorial Garden "located in College Woods - just off the main path between Miller Hall and the Lake Matoaka Amphitheater, will provide a dignified, reflective place to memorialize deceased alumni, faculty, staff, their families and friends of the College."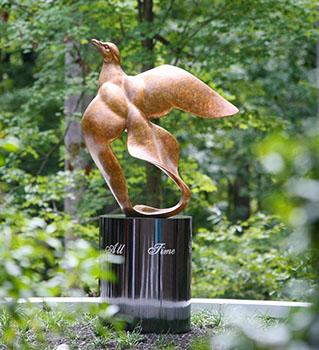 The garden was funded entirely through private donations, including gifts by Jack Garrett '40 and the Class of 1959's 50th Reunion class gift. In addition to Garrett, reunion gift chairs Jim Brinkley '59, Kathy Watson Lawler '59 and Earl "Tuggy" Young '59 were applauded during the September 2010, dedication ceremony for their efforts in making the Memorial Garden a reality.
Administered by the Alumni Association, the garden will be available to members of the William & Mary family who wish to have their ashes, or the ashes of their immediate family members, buried at the memorial site. A plaque on the surrounding brick wall will mark each person whose ashes are placed in the garden.
The centerpiece of the garden is a towering bronze sculpture of a dove, created by David Turner '83. Turner's sculptures appear all over campus, including Bald Eagles in the Sadler Center and Great Blue Heron and Marsh Wren in the Crim Dell.
References
Material in the Special Collections Research Center
In the News