One of the jewels in the crown of Swem Library is the Tucker-Coleman Collection, the gift of descendants of St. George Tucker. This remarkable family of lawyers, judges, teachers and authors has left for posterity a collection concerning six generations, helping to document the social, legal, economic, and political history of Virginia.
St. George Tucker, progenitor of the family, emigrated from Bermuda to Williamsburg in 1771, spawning a Virginia dynasty. He corresponded with many of note in the Revolutionary era including James Monroe, John Marshall and Thomas Jefferson. His diaries, almanacs, literary manuscripts and notebooks reveal a man of many interests and talents. The papers and letters of his wife, Frances Bland Randolph Tucker, provide a rich source for eighteenth-century Virginia.
St. George Tucker's children reflect the generational change from the citizens of the early republic to Southerns of antebellum Virginia. Nathaniel Beverley Tucker's career in Missouri as a judge and his years at William & Mary following his father's legal career are well documented in the Tucker-Coleman Collection. St. George Tucker and Nathaniel Beverley Tucker had a strong sense of history and fortunately saved their correspondence and other papers. In the latter's case, one will find letters of J.H. Hammond, William Gilmore Simms, Abel Upshur and John Randolph of Roanoke. Henry St. George Tucker, the older brother, is well represented, too, in the collection by letters to his father and brother. St. George Tucker's daughter, Ann Elizabeth Bland Tucker Coalter, continued in her mother's footsteps as the wife of a judge and a plantation mistress.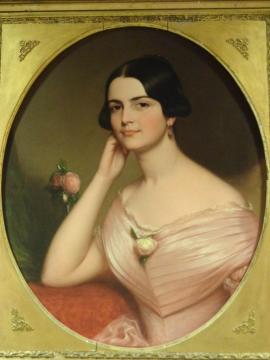 The third generation is exemplified by Cynthia Beverley Tucker Washington Coleman who reigned in the Tucker House in Williamsburg until her death in 1908. Cynthia Coleman was an author and co-founder of the Association for the Preservation of Virginia Antiquities (now Preservation Virginia), the first private state-wide preservation society in America -- another Tucker with a strong sense of history. The devastating effects of the Civil War are one of the many aspects of Cynthia Coleman's correspondence.
The fourth lineal generation were George Preston Coleman (1870-1948) and Charles Washington Coleman, products of their heritage. The former served as state highway commissioner and mayor of Williamsburg, the latter was a poet and librarian.